Schedule a Call
Use the calendar below to schedule a consultation with one of our Canadian travel experts to discuss your unforgettable Northern Lights vacation.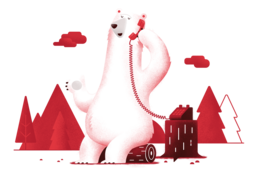 Already a customer?
If you are already a Fresh Tracks customer and wish to discuss your itinerary, please reach out to your Customer Experience Specialist at
Toll-free
1 844 440 2028
Speak to an Insider now
Want to connect with our Insiders right now? Give us a call using the toll free numbers below.
---
Monday–Friday

6:30am - 5:30pm
Saturday

8:30am - 4:30pm
Sunday

9:00am - 5:00pm
More than we could have hoped for
Thank you for making our vacation one we will not forget in a very long time. It was truly amazing. Your professional and friendly help in putting together such a perfect package i... 

Ulla and Nova
NSW, Australia
Sign up for travel inspiration
Our newsletter is full of travel tips and local insights for your Northern Lights tour in Canada.